Most of my litters have been temperament tested by Kathy Helmke, a dog trainer who trains service dogs for the disabled. Although my pups are destined for homes where they live as pets rather than guide dogs, the testing is interesting in that the pups are evaluated independently.

One standard puppy test used by many breeders is the Volhard Puppy Aptitude Test Kathy uses the test that her service dog organization uses. It's very similar to the Volhard P.A.T. but has a few extra tests that use strange objects to see how the puppy reacts when confronted with novel stimuli.
[Note: all photos on the page are 'thumbnails' - if you want to see them full-size, just click on the image.

The main components of the test are:
Social Attraction
The tester calls and tries to attract the pup to see how quickly the pup comes.
Following
Tester walks off - does the pup follow? Does he need to be coaxed?
Restraint
Pup is held down for 30 seconds and the reaction is gauged.
Sociability (or forgiveness)

Tester pets pup after restraint test and reaction is graded.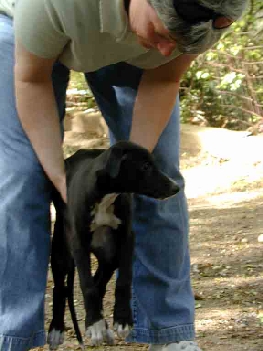 Elevation
Tester holds puppy off the ground and observes how the puppy reacts to a situation where he has no control.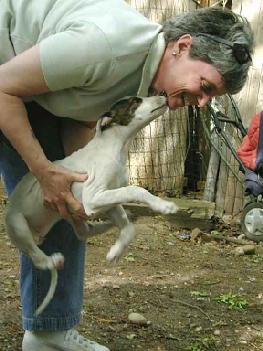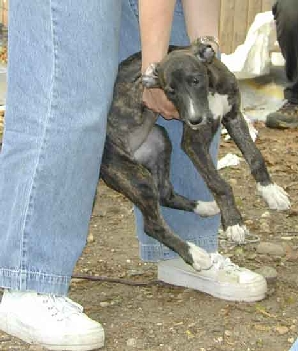 Retrieving
Tester throws crumpled paper ball and pup is encouraged to return with it. This is supposed to show how cooperative the pup is, but the reaction is also influenced by the amount of inherent retrieving instinct the pup has.
Touch Sensitivity
Tester pinches the pup lightly, then more firmly, until the pup pulls away or shows discomfort.
Sound Sensitivity
Tester makes loud noise and the puppy's reaction is assessed (In this case, the noise source was a metal object banged against a food pan.)
Prey Drive or Sight Sensitivity
A small white towel on a string is dragged in front of the pup.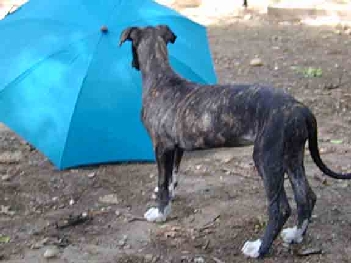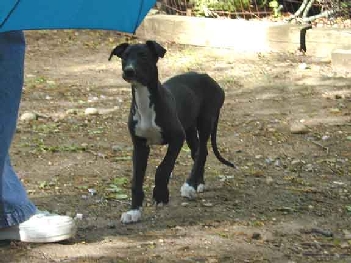 Response to Strange Objects
The objects used in our tests were an automatic umbrella and "Robodog" a small silver and blue canine robot that flaps its ears, moves and makes odd bark-like sounds.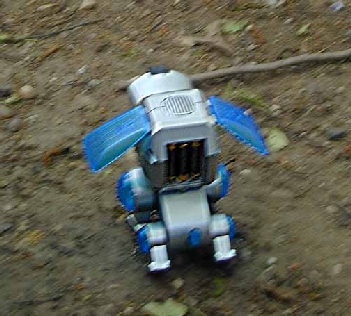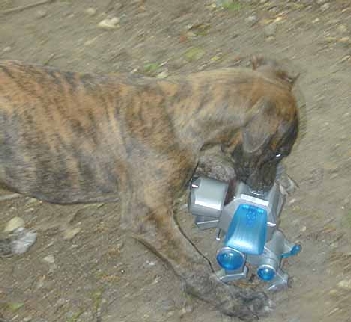 In practice, temperament testing is supposed to reveal new information about the potential for the pups, but in reality, I don't usually learn substantially new revelations about the puppies. Watching them grow and interact with us and the other dogs for the first 7 or 8 weeks of life usually tells me most of the same information about the personality of that puppy.
Back to the main puppy page
Revised 4 July 02