Playful Puppies at Golightly
All of the photos here are thumbnails.
Click on any picture for a larger, more detailed image.
There's a tree on our property with twin trunks and a hollow that collects water. The pups love jumping through the "V" of the trunk where it splits and launching attacks on their siblings.

Left: Fiona and Angel
Right: Guy, Angel, Maisie, Ripley, and George

They are fascinated by the hollow where rain collects and prefer 'tree water' to 'sink water'.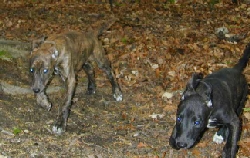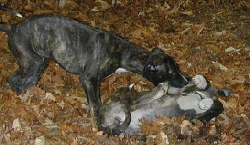 Top row: General puppy wrestlemania.
Bottom row: Pup demonstrates proper "speed ears" position, and Ripley decides it's too hot to get up and wrestle, so he conducts a play-fight whilst lying on his side.
For baby puppies, the world is filled with chew toys. Or maybe it would be more correct to say everything and everyone IS a chew toy...

Right: George discovers that the wood moves around less and allows for more leisurely eating than gnawing on his sisters.
We play with the pups using a lure toy that is made from a long pole much like a fishing pole and line. The coveted lure is just a white plastic bag. They love this, and as a result, most of the time, our yard has tiny little bits of plastic strewn about.
Email Golightly Greyhounds
Revised 1 July 02